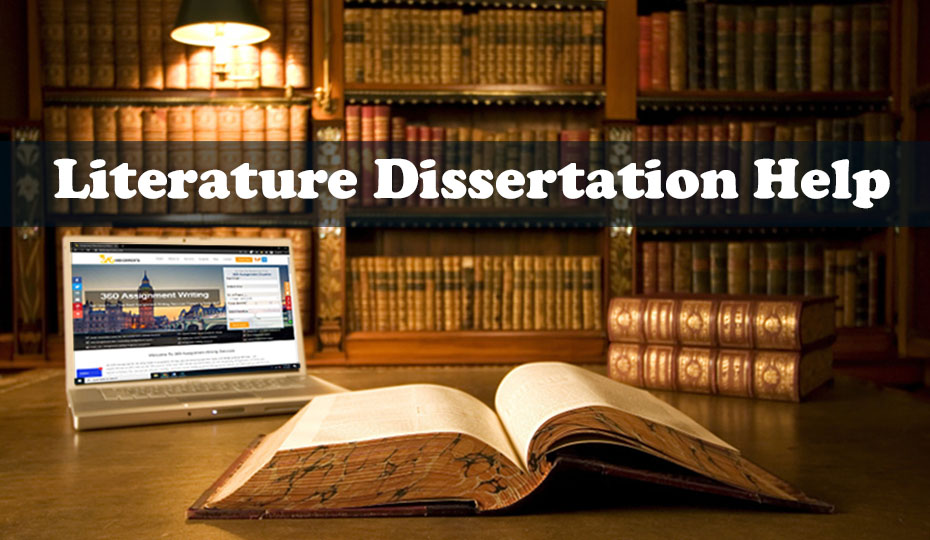 Tips On Writing A Literature Dissertation
If you are here today, it's apparent that you agree with us on the fact that writing a Literature dissertation is one daunting task. Students have to start months before their final submission date because first of all, there's a lot of research required here, and second of all, they have to make sure that it's perfect enough to bring them some good grades. After all, that's what the students study for when they get enrolled in any academic program. Their ultimate goal is to earn good grades for better job and business opportunities. 
In a nutshell, there's a whole other level of burden and stress on students when it's time for them to write their dissertation. Especially one of the most challenging things for them is to work on the literature dissertation. Most of you probably don't even know what a literature review is and how long it's supposed to be. 
What About The Literature Review? 
The literature review comes at the start of your dissertation, and it's quite an essential part of it, which is why you shouldn't ever think about skipping it. As far as what it means is concerned, well, the literature review is more like a summary of the writings in the field that you are researching. Your literature review needs to give a decent idea of your field and subject you are in. It should provide different standpoints on particular issues and the changed or current opinions of people from those standpoints. 
Important Tips For Literature Dissertation Help
To ensure that you are writing a good literature dissertation, specific tips can come handy to you. Starting with; 
1-Conduct wide research
Every student out there knows that "research" is the core of any essay, assignment, or dissertation. But when it comes to the literature review alone, your research becomes more important than ever. You need to go through all the databases that are available online for dissertations, you need to use the abstracts of the articles to know about the relevance and follow as many footnotes as you can. 
2-Focusing on relevant content 
One of the Largest mistakes students often make is that they get all bogged into the plain descriptions written in journals, articles, and books that they read. This is what you need to avoid when writing the literature review of your dissertation. Just make sure to stay as relevant to your content as possible. Not just this, but you also need to spend some time analyzing the significance of all the sources that you are using for your purpose. 
3-Do not over quote 
Quotations are useful when you want to highlight something in your literature review, but that doesn't mean that you can just put in as many quotes as possible. It will ultimately harm your overall dissertation because writing it in the first place highlights your originality, uniqueness, and opinion on a subject. Filling in quotes from other authors will mess up all of your dissertation and not just the literature review alone. 
4-Opt for a critical attitude
Nothing that hasn't been questioned, dissected, or scrutinized should be a part of your literature review. To emphasize on initial analysis and to ensure that you are walking the right path with your writings, you need to have a critical attitude towards everything. For example, you are supposed to generate arguments, you need to give reasons to your particular reactions, and most importantly, you should challenge any assumptions if there's some doubt. 
5-Valid sources 
You need to consult a wide range of material, and this is what we've been telling you time and again. But what stands as your number one priority is to make sure that you are collecting all that information from valid and authentic sources. You'll find books, journals, articles, and whatnot, but some data's now obsolete, which is why you need to be careful about it. 
These are some of the most important tips for you to consider when working on your literature dissertation. Other than this, if you are seeking online dissertation help, then yes, this is the right place for you for sure. 
360assignments.com Is Here To Help You 
It's now becoming a trend among students to hire professionals and experts for their literature papers. In other words, if you are thinking of seeking some help, know that it's fine, and it's common as a literature paper can sometimes become more challenging than one can ever think. 
Here at 360assignments.com, we make sure that students face no such trouble when they want someone to help them with their literature dissertation.  Even if it's the whole dissertation that you want some help with, we are here to serve you in the best possible way. 
For students, grades mean everything in their academic career, and their dissertation is like their final exam that decides where all their struggles stand. The point here is that writing a perfect dissertation can be a little overwhelming for students, which is where and why we are here to offer our services. 
Why Opt For 360assignments.com? 
It's a fact that several other websites and companies are waiting out there to help people with their assignments, essays, and thesis, etc., but on the other hand, you do know that you cannot rely on all of them. With us, all such reliability problems will come to an end because we have been working in this field for more than a decade now. Our services have always helped students get the best grades, and their instructors always turn up happy with the research work done. 
Excellent On-Time Deliveries 
Your literature dissertation can become a huge trouble for you, especially if you are short on time. It's not easy to compile all the data and the stats with research in such a short time. But if you want the best online dissertation, help then we are here for you at your service. 
In such an awkward situation, don't you think you need some help from expert writers? If yes, then why wait? Get in touch with us when you know that the review is out of your hand, and you don't understand it. We have expert writers always waiting on the go to help you complete the paper on time without compromising on the quality. 
Lowest Possible Rates 
For students, it's hard to pay a huge fee to get their literature exam done. Most of them have to pay from their pocket, which is where things get a little more stressful than they are. However, with 360assignments.com, you don't have to worry about being on a tight budget. No matter what it is, money won't be a problem because we offer our services at affordable rates. 
Overall Verdict 
It's high time for you to contact us if you are looking for online dissertation help. Once you hand us the project, there won't be anything left for you to worry about, and it will all fall into place. 
Now without waiting anymore, try us out, get in touch with our expert writers and get your dissertation completed on time. We assure you to help you get some excellent grades that will lead you to better job and career opportunities.